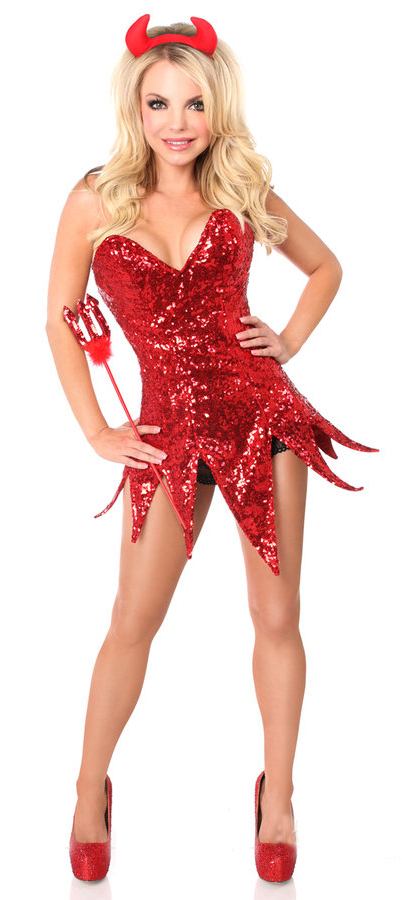 It is October and Halloween is fast approaching… Sometimes the best costumes are those that simply are elegantly sexy. Sometimes that takes someone to actually care about what they create and what love they give to their creation. It is always nice to find such things…
This is called the Red Sequin Devil Corset Costume and I found this on eBay some time ago. It is the creation of a small corset designer and, as such, there's quite a lot here that I like because it is clear they cared about what they created.
The costume comes with a steel boned corset dress, the devil horns and the pitchfork the model is holding. Shoes are not included and it sells for $160 US.
That is not, really, an outrageous price for the corset, and really I only would want the corset  for the horns and pitchfork aren't really all that wonderful. But the corset? That I really do like quite a lot.
Matching the corset with the right horns and shoes would be wonderful I think and it does give me something to ponder over.
This is a prime example I think of a costume idea that works, needing only a few minor changes and as such I think it is quite promising.
I'll give this three and a half out of five pitchforks.
Lovely, save for the horns and pitchfork, but those aren't that difficult to change to something better…
Tera