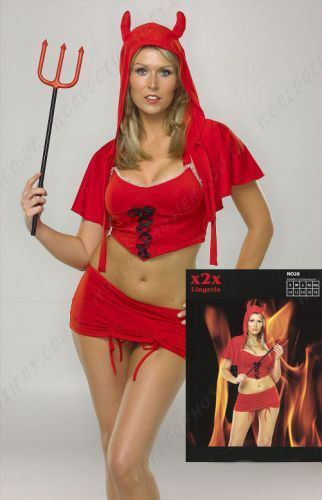 Fancy means, at least to me, a costume is made to a higher standard. Perhaps it is a little bit 'royal' in appearance in some way. Perhaps there is very little, if any, cheesiness or trashiness to be found in the costume. So how is it that this costume can be called fancy in any way, shape or form?
This is called the Fancy Dress Devil Costume and it comes with the mini skirt, short top, the cloak with attached horns and the pitchfork. It sells for $25 US.
I really cannot call this costume fancy in any clear way. I might, on a good day, call it slightly sexy, but I think I would be somewhat generous in doing so.
I don't care for the cloak and horns combination, the pitchfork is lousy, the top and skirt aren't the worst thing ever, but there are better than this is.
I hesitate to call this trashy, this doesn't quite get there, but, again, there are many other costumes that are more trashy than this is.
Not much that could be done to improve this, other than getting rid of that cloak and using an actual pair of horns instead which I think would make this slightly better as whole.
Two out of five pitchforks.
As usual, some things not so good, but better than the worst at least…
Tera