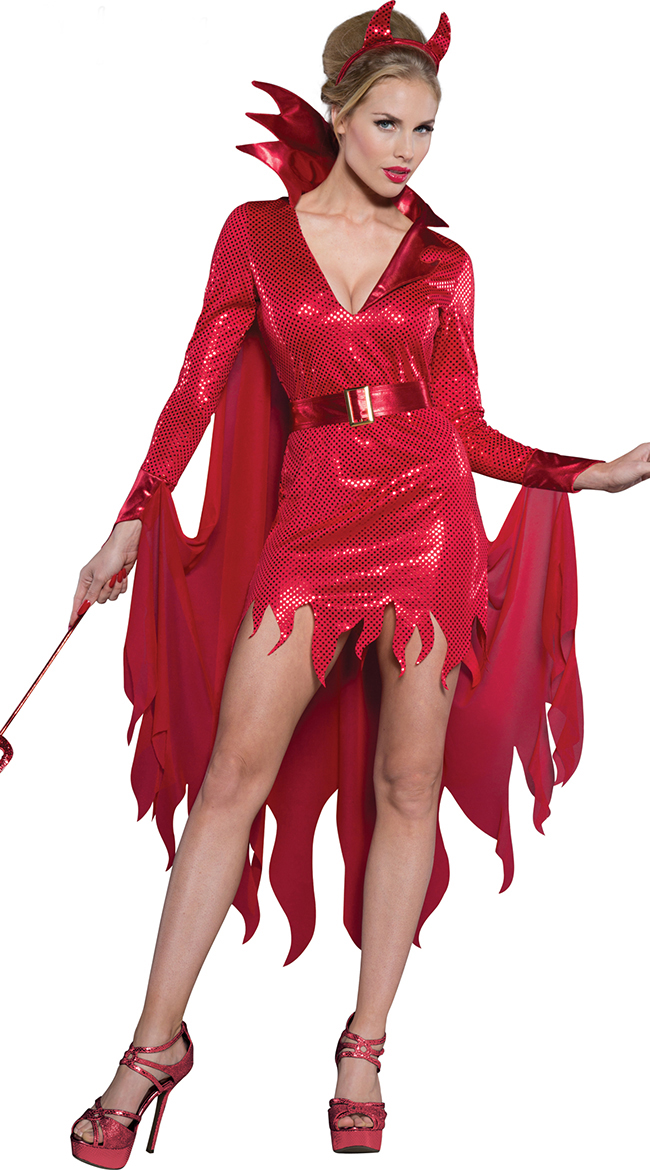 Once again costume designers tempt me with a shiny costume assuming that, if there is enough shiny, I will ignore the trashy or. what happens more often, the overall mediocre look. It cannot be that hard to make a costume look sexy and have it be shiny as well can it?
This is called the Hot Stuff Devil Costume and it comes with the red sequin dress that has an attached mesh cape, the belt, a pair of red sequin horns and the sequin pitchfork that I dislike above all other lousy looking pitchforks…
The shoes are not included, nor is a tail, and this sells for about $80 US.
There is so much to dislike here really. The cape does nothing for me, the pitchfork is lousy. I don't particularly like the dress' hem at all, not because of how short it is, but rather that it doesn't quite look right being a flame-like cut. The horns at least match the sequins of the dress, which is something. I also do not like that collar, it looks… unfinished… for some reason.
I suppose, given no other choice mind you, I would remove the cape and that collar to reduce the tacky to a minimum, find a better pitchfork, and see if that belt really is needed. The dress itself? Nothing really can be done about that… But perhaps there is an idea in here somewhere to think about… One never know really…
I'll give this two pitchforks out of five.
There's a thought in there somewhere, but it doesn't quite bring out the seductive…
Tera