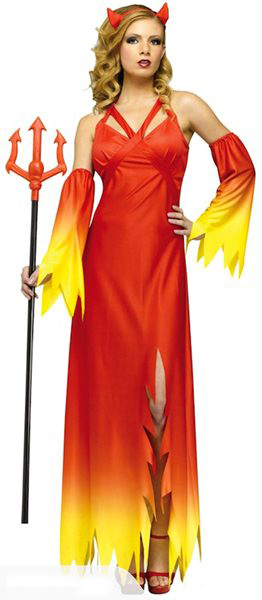 Once again I have to wonder at what point exactly a costume goes from being a good idea into the realm of being a disaster. There is a tipping point where I think there needs to be a giant flashing neon sign to which heed needs to be taken.
This is called the Devil Delight Costume and it comes with the flame colour gown, the horn headband and the sleevelets. The shoes and pitchfork are not included and it sells for around $75 US online.
The horns are silly, at least they had the intelligence not to include that wonderfully trashy pitchfork, which I have to admit I am surprised that they managed.
It isn't the worst gown that i have seen offered and really it wouldn't be quite so bad if not for the jagged hem, which I just do not like at all.The colour pattern actually looks relatively nice compared to some of the costumes that I have reviewed on the Tale in the past.
I'm not sure I would want to use the sleeveless really, they don't quite suit me well, for one, and I don't like things that drape over my hands as they do in this image.
I suppose as a none-too-sexy costume for more public occasions this isn't all that bad a choice overall, but there are many other costumes that look quite a lot better for about the same cost.
I think I would have to look for one of these in a larger size so that I could have it adjusted to remove that hem line, for one, and possibly find a way to cinch in the waistline to make it a bit more body conforming…
I'll give this two and a half out of five pitchforks.
Not totally awful, but at the same time it isn't completely delightful either…
Tera