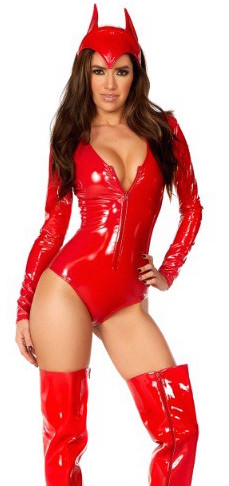 I have mentioned, many times, that I have a thing for shiny costumes, boots, latex… But I digress a little. I think that, as a whole, it isn't too hard to make a costume that is attention getting without going to the point of it being tacky. That doesn't take a lot to accomplish really, if you think about it. A nice design, the right accessories, and, of course, the right horns. So why is it that so often the horns never work?
This is called the Burning Desire Devil Costume, which to be honest about nine other costumes of variously tacky design have used as their name. It comes with… Well, that's actually hard to say really as the description of this costume only says that it sells for $90 US.
I'll make the assumption that the entire costume is the horns and the costume, the boots not being included. It's rare that the boots would be included, for one thing, and for the other, trying to mix and match the multiple combinations would be stretching the limits of what might be. So, based on what I know similar boots sell for, to look like this model, it would likely cost about $175.
I really do not like the horns, nor the costume itself. I do have to admit I like the boots in a way. However, they are far too loose for my taste and for that they lose a bit of their luster for me.
I think the entire look is a bit too plain, a little too tacky, and as such I wouldn't really consider this. The horns alone just… don't really work for me.
I'll give this one pitchfork out of five.
It's shiny, which is something, but little else…
Tera