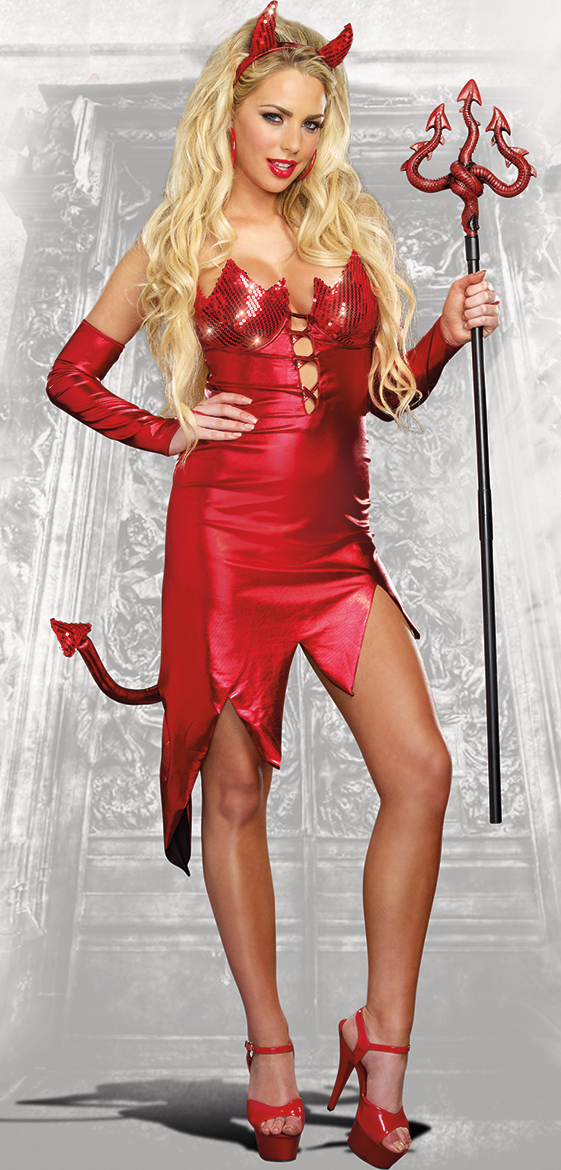 Sometimes I am amazed at costume designers and how they come up with costume ideas. They can create something that has some sexy in it, some seduction too. They can find the perfect model to show off the costume. She'll have the right look, mostly the right accessories, and everything just seems like it should work. So why is it that they have to go and give the costume a hem that just makes a mess of things?
This is called the Hell Raising Hottie Costume and it comes with the red stretch metallic dress, an attached tail and the sequin devil horn headband. The finger loop gloves, earrings, shoes and trident that the model is holding are not included.
The costume sells for $50 US, but adding the accessories pushes the cost of the costume to a total of $123 US.
I do not like the pitchfork, and I'm glad it doesn't come with the costume. I love the heels, I think they work well, but they don't come with the costume. I love the earrings, but they don't come with the costume. I don't like the gloves and I'm glad that they don't come with the costume. I can sort of deal with the horns, they don't look out of place and they come with the costume.
Here's the thing, the costume itself… Needs some work. The main problem I have is that hem. Why do that? What is the point? Why not make a decent straight hem and slit the dress on one side? Beyond that, why not sparkle the entire dress? It looks a bit odd as it is here and I think a shiny overall look would have been a lot nicer a look.
However, it does give me pause to think about my own version of this… Which will be more to my style…
I'll give this three out of five pitchforks.
It's… okay. Could have been a lot more…
Tera