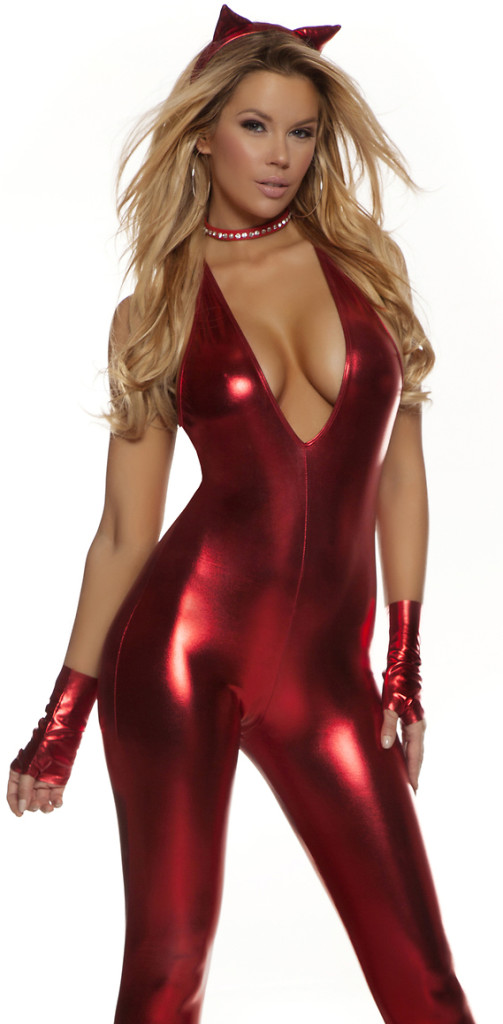 There are some costumes that are, at least a little sexy. There are a lot more however that are tacky, which seems to be the most common thing I happen upon. Things become a lot more odd when the costume claims to be, at least somewhat, devilish, but then horns… aren't.
This is called the Fire And Desire Costume and it comes with the metallic catsuit, gloves, and what are called horns, but I don't see that by any means being accurate. Shoes are not included, nor is a tail, and this can be found for $59 on the web.
Those are not horns. I'll accept cat ears, but I can't see those being anything like horns really. So, in truth, this is a cat costume being sold as a devil costume.
And that's disappointing in a lot of ways. Mainly that they couldn't find a single pair of horns to go with this at all?
On the other hand, perhaps the intent is for someone to buy this and an accessory kit of horns and tail. Which, for the record, sells for $25 on the site I found this costume on. It's even offered on the same page as this costume.
I will admit that I like the catsuit, to a point, the gloves I don't care for, nor the "horns". This really comes down to a mostly sexy piece of shiny red lycra and not much else.
But then, it is a start which has to be worth something I suppose…
One and a half out of five pitchforks.
Not the worst, but…
Tera