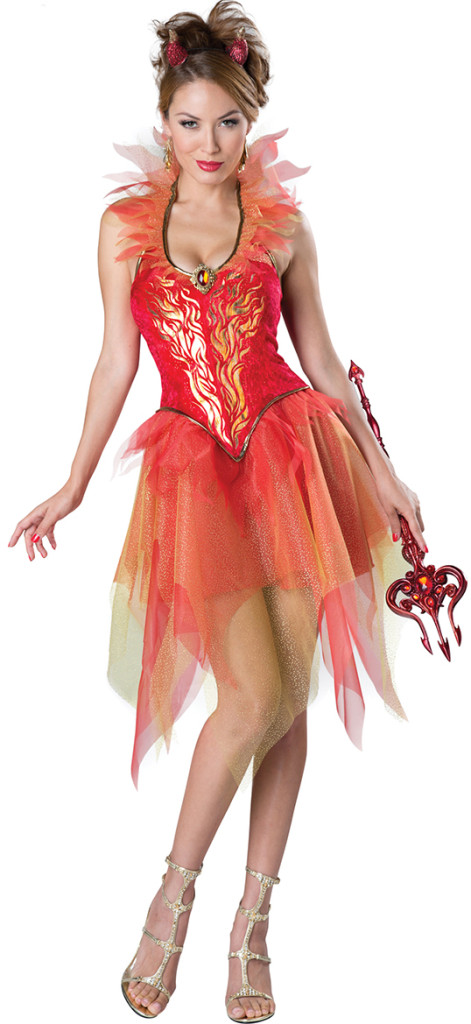 I do realize that my particular tastes are… shall we say… particular. I do like a certain look, I have very little tolerance for tacky, ugly, or simply bad costumes whatever they might be. However, sometimes, I will give a pitchfork or two for a costume that juts manages to get out of trashy and into almost decent. It's not much of a difference really, but perhaps that's all in the style more than anything else…
That still doesn't mean that I would buy it however…
This is called the Devilish Desire Costume and it comes with the dress, the foil flame printed bodice, a glitter tulle skirt and collar and glitter horns. The pitchfork and shoes are not included however. It sells for about $50 US on most sites that I have found it on.
I really can't say that I want to buy this by any means. It does nothing for me, though I will admit that I arched an eyebrow when I looked at the pitchfork the model is holding. Don't care for the horns, the skirt or anything that's offered here at all.
It isn't quite tacky however, though it does come very close to crossing the line I think. The more telling thing, at least for me, is that I get a ballerina vibe from this costume and that, to me, means this might be a rehash of another costume, just dyed red.
Really nothing that I can do to make it better, certainly something I'd never be seen in. But, for some, it's an option at least… Which is probably being kind.
One pitchfork out of five.
There's better… really there is.
Tera