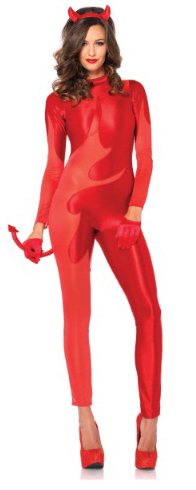 Ah spandex… You do help with some interesting superhero costumes. But you don't as a whole, make for very good devil costumes all that often. Perhaps the main problem is that tight and clingy isn't enough by itself?
This is called the Red Hot Devil Costume and it comes with the catsuit, an attached devil tail and the horns. It sells for between $45 and $55 US on the site that I found it on.
It's quite simply… Meh. There's really nothing attractive about it and as a whole it's quite unimaginative I think at least.
The flame pattern is a bit odd, and I suppose that's supposed to be an accent or something like that. But it does nothing at all to make things better.
I can't see a way to improve this as nothing about it even comes close to being something that I like in the first place.
It might be another costume to toss in the fireplace and roast marshmallows over though…
Yet another zero out of five pitchforks.
Perhaps next week we'll crack into the ones again?
I can but hope…
Tera