Over the time that the Tale has been here, I've come across some videos that I can't help but laugh over. Sometimes for the content, sometimes for the expressions and sometimes because the wobbly bits are really… wobbly.
If you cannot see this video on the Tale, please try this link:
https://www.youtube.com/watch?v=ThNhLJubi1s
And in the event that YouTube has made this vanish, as seems to be an ongoing problem with things I share here on the Tale, here's an image of the Succubus in question…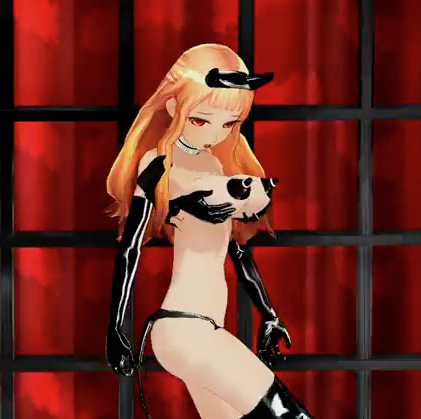 As a whole, to be honest about things, I do like the shiny she's wearing. I really don't have a problem with her as a whole looking somewhat Succubus-like. The problem I have is, and you have to see the video to see it, how wobbly she is in the chest area. I'm being rather circumspect about this, but really the only thing to do is watch the video to see what I mean.
I would suggest turning down the volume however, the music is J-pop hyperactive of course, which sort of explains her bouncing around madly. While I liked her looks at the beginning of the video, I have to admit the first time she starts swinging around her tassels I couldn't help but laugh out loud.
However, and I suppose this is the important thing, her outfit does put a story into my thoughts that I should try to finish. Stripper Succubus anyone?
There might be something to that…
Tera