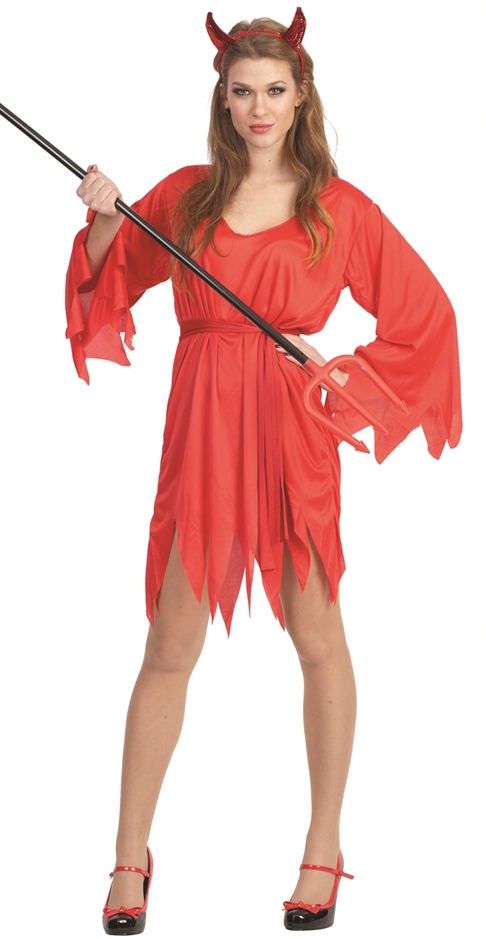 There are three words that are used to excess when it comes to costumes. They are "Sexy", "Devil" and "Costume". Not necessarily in that order, but they do appear. The thing is, it is a rare costume that actually should use those three words and as such it's more likely that something very tacky or ugly is attempting to masquerade as being something more than it is.
This is called, surprisingly, the Sexy Devil Costume and it comes with the really amazingly ugly dress and that's all. No horns or pitchfork or shoes. The rather sickly looking piece of fabric can be found for less than $20 US at many sites on the web.
I think there is a bit of dishonesty in what is being sold here as since all you are buying is the red dress, how is it that this costume can be really called a Devil costume in the first place?
If at least the horns were included I could accept that what they were selling was some half-hearted attempt at a Devil costume. But in this case that simply isn't true.
This is a prime example of something being left over in a warehouse somewhere and being put on sale with a description that is bait for the search engines to latch onto.
I would hope that whomever would even think about buying this, and it wouldn't be me I can promise you, that they would read the description which is in very small print and is hidden away underneath a button. If one didn't then what arrives will be quite the surprise…
Still another zero out of five pitchforks.
Just a sad costume by far…
Tera