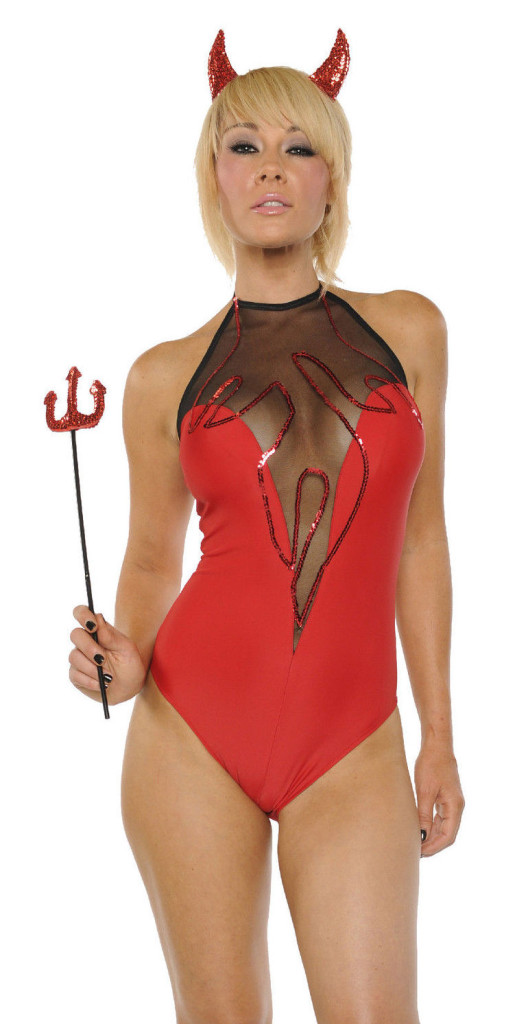 It seems like this year is turning into the year of tacky costumes, or at least I am finding more of them so far this year.
This is called the Sexy Devil Flames Bodysuit and it comes with the bodysuit, the lousy pitchfork and the silly looking horns. The most amazing thing to me is that this disaster sells for $60 on the web and I just cannot see why anyone would willingly pay that much for this mess.
I really do not like the horns, especially do not like the silly pitchfork, and as a whole the costume itself does absolutely nothing for me at all. It just looks wrong in so many ways. There's nothing in this that isn't a prime example of being tacky.
I suppose that the one thing this costume has going for it is how much cleavage you'll be showing off. but that, again, is tacky.
I can't think of a single thing that could make this a better costume, not even setting it on fire, though that might be rather satisfying if the costume didn't cost anything.
Really it would be a mercy to all those that would otherwise have to gaze upon this and wonder what the person wearing it was thinking in the first place.
Yet another zero out of five pitchforks.
Simply avoid this and look elsewhere.
Tera