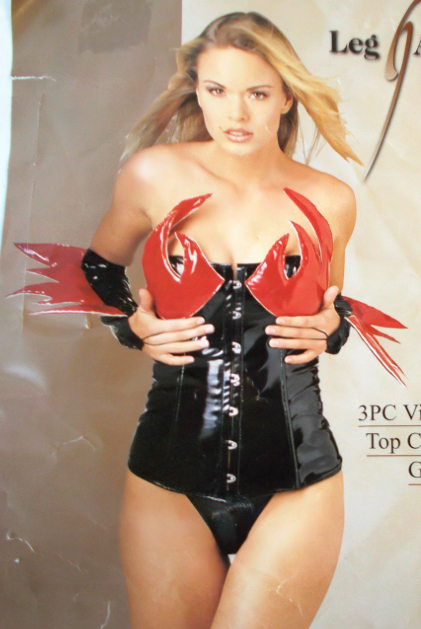 Sometimes the costume ideas that I find are simply beyond tacky. It becomes very clear at first glance and as such it isn't all that much a surprise when the costume in question "magically" disappears from the scene. Really, in this case, it was the best thing that could have happened.
This is from Leg Avenue and it is a three piece Vinyl Flame Costume. which comes with the corset, gloves and a G-string. I have no idea what it sold for originally, but I found it on eBay for $30 US.
Obviously this doesn't come with horns or a tail… or any kind of fashion sense whatsoever. As I think about all of the costumes that I have looked at over the years, this actually might be the worst. I'm not sure of that of course, but I cringed when I first saw this disaster and as such, that's not a very good sign in the first place.
When I look at the "flames" somehow I see the hands of someone standing behind the model and groping her. As for the gloves, those look to be almost like some kind of fighting armour or something and I shudder to think what kind of damage they could cause in a "compromising" situation.
It just looks very cheap, very tacky, uncomfortable and even if this is, as it is described, an adult costume, there is better. In fact I could easily take a pair of my horns and put them with almost anything in my closet, including a fuzzy oversized sweater, and look sexier than this.
Sadly another zero out of five pitchforks.
Even that might be generous…
Tera