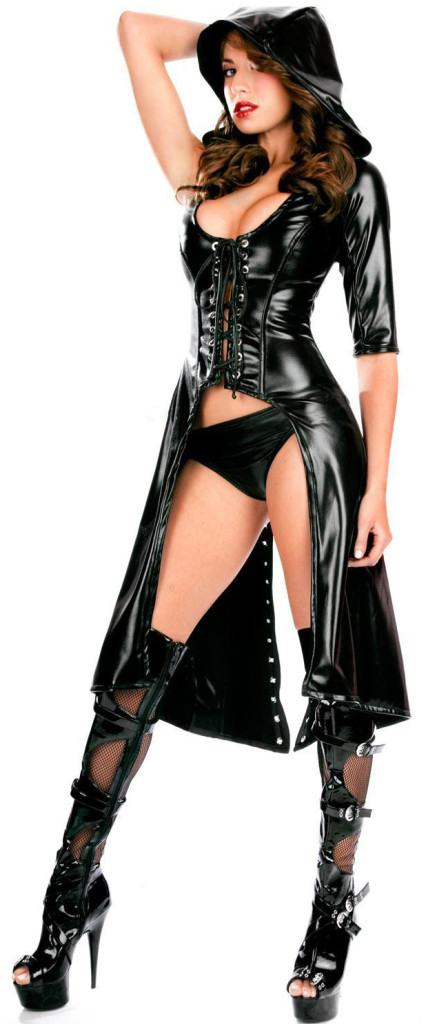 Christmas is coming, it's right around the corner, and my thoughts have turned to the question of being… naughty. Of course, to be naughty on Christmas takes a certain look, style, and that special little thing that makes it all work. It might be a little risqué, it might be a little "Tail" in character… But then, that can be a lot of fun…
Of course to have that fun means taking a lot of time to put the pieces together and spend what it takes to make naughty happen…
This is called the Dark Passions Costume and it comes with… Well, really all you get its the drape and nothing else and it costs $30 US. The description cannot make up its mind whether it is made of leather or latex, it's faux leather obviously, and there are some other odd things about the listing for this that gets a little confusing.
Still, setting that aside, besides the drape, the boots cost $85, the lingerie is another $70. I don't care for the hood, and would have it removed, and a pair of black horns, and a red wig, would be around $40. So in order to have a look like this, it would cost somewhere around $225 US.
Or, speaking hypothetically of course, I could just buy the drape as I have everything else already and have something… interesting… for Christmas…
At least I think it is, and next week my Eternal will have to let me know how "interesting" it was for a Christmas gift…
I'll give this three and a half out of five pitchforks.
Things went from thoughts to action and I think the result will be worth the small investment…
Tera