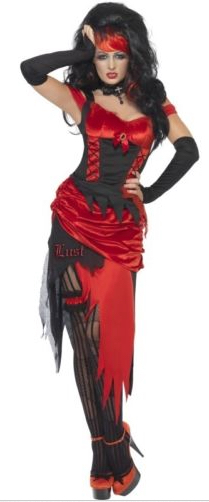 Not all costumes that I find are obviously Succubish, or for that matter, Devilish, in form. Many times what they are is, to a point, interesting, but then they turn a corner and things just so wrong in so many ways. What is it, exactly that takes a sort of good idea and drops it off a cliff?
I wonder… I really do.
This is called, and I know this costume only has this name because it is link bait, the Seven Deadly Sins Lust Sexy Red & Black Devil costume. That's a complete and utterly silly name of course. Better might be "Almost a good idea but we didn't know what to do exactly and we forgot the horns to make it Devilish" costume.
The costume comes with everything seen here, save for the wig and the shoes, and the stockings. It can be found for $30 US on many sites.
What I particularly found amusing was the description of this costume which included the following: "Lust is one of the seven deadly sins in christian moral tradition that refers to intense desires. This seductive adult women's fancy dress costume represents sexual desire with the rich deep red and black colours." But it is the last line in the description that made me shake my head: "thou shall not exhibit lust".
I actually like this… sort of. I mean it isn't the worst thing I have found by far, which has to be worth something I suppose. But there is a certain amount of trashy in this that just doesn't do anything for me and so really the like I had gets tempered a lot.
However, it does give me a thought about a certain dress I have that might have to see my dressmaker for some alterations…
I'll give this one and a half pitchforks out of five.
If nothing else, it gives me a rather… interesting idea…
Tera