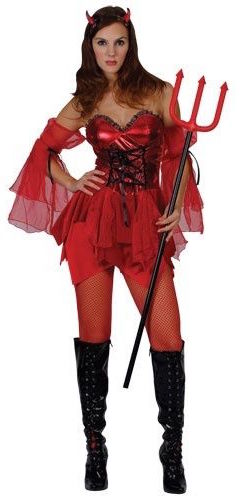 Halloween is past, but that doesn't mean the awful costumes stop appearing. And it isn't possible, no matter how good the accessory to make a bad costume look better. Although some seem to think that it can…
This is called the Devilicious Devil Lady Costume and it comes with the dress, the sleevelets and the horns the model is wearing. The pitchfork and boots and stockings are not included and the costume sells for $65 US.
As a whole I think the costume reminds me of, in a way, an Octoberfest beer girl corset with a really bad skirt and sleeves. Setting that aside, I don't think much of the horns, they are far too small really. The costume itself just looks… rushed… i think is the best way to put it. Really the entire look seems to be just that side of trashy and that pitchfork does nothing to make things any better.
Thinking about this further, I suddenly see this being more of a Devil Pirate costume than anything else, so then the question is, does that work in this case?
To make that work, really all that would need to happen would be to find a sword really. I'm not sure that it would be that easy for people to figure out what you were, but as this costume really could be just about anything if there were no horns, it might not be that much of a stretch of imagination to get there.
I don't really like this costume as a whole, there are better.
One and a half out of five pitchforks.
It would be nice if this costume could make up its mind or I could about it…
Tera