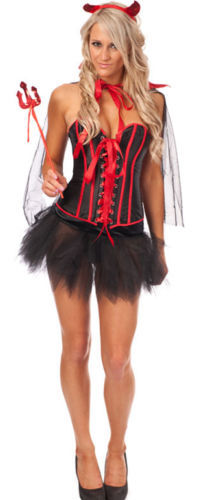 It is only a few short days to Halloween and as a final thought for another year of looking at awful costumes, better ones, and the occasional one that actually managed to rate well with me… Here's one that has some possibilities at least, though the accessories need some work.
This is called the Fancy Dress Costume Devil and it comes with the corset with lace up back, skirt, cloak, a g-string, that lousy pitchfork again and a pair of devil horns that aren't much really. Shoes are not included and this sells for an average of $89 US.
And the funny thing is that I don't think this is all that awful a costume choice really. Oh, it's not perfect and there are some bits that would be tossed away immediately. but… there's some hope to this.
Before I get into my thoughts about the costume, I have to wonder why it is that once again the model wearing the costume has an expression that looks like she just sucked on a lemon. I can't see how that helps to sell costumes really. Perhaps this is something that websites and manufacturers of costumes should think about. Any smile at all does help a lot I think.
Obviously I don't care for the pitchfork, so that can be ignored easily enough if I try to. The horns look to be the sparkly ones, so again, they don't do anything for me and wouldn't remain. But the corset really doesn't look all that bad I think and in that I think there is a bit of "sexy" to it, even if it is only slightly so.
The right attitude and a bit better look I think would make this as a whole look better and be better. Obviously all costumes are a starting place, it's where one takes them that matters. The right thoughts can take this idea to better places by far I think.
Three out of five pitchforks.
It's a start, not all that bad honestly…
Tera