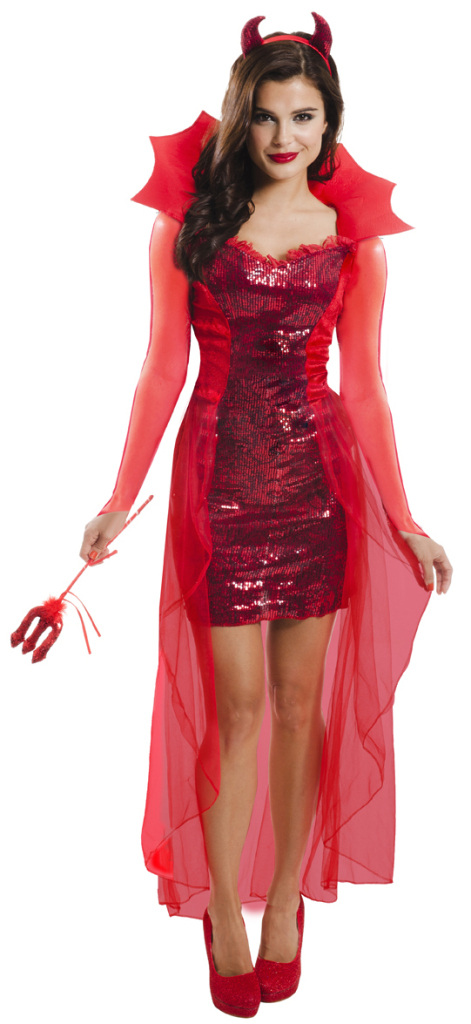 There are several costumes that keep coming back, year after year. When they do most of the time they appear in slightly altered forms. Adding this bit of cloth or that piece of glitter, in an attempt to make them look better. This does not, at all work.
This is called the Red Hot Devil Costume and it comes with the sequinned dress with a chiffon flowing cape attached with that ridiculous collar and the devil horns the model is wearing. Shoes are not, of course, included, nor is the pitchfork. I've found this on several sites and it sells for an average of $35 US.
The cape is, honestly, the worst part of this entire look and that's saying something as the pitchfork is just awful. But it isn't part of the costume and so the cape is about the worst thing.
The collar is more vampire than anything else and really what's the point of the collar, or for that matter, the cape in the first place? I know this costume does not come with a tail, and perhaps it should, because really the cape looks flimsy and worse still… It looks cheap.
The horns are as sparkly as the dress, at least they match, which is something at least. But that's not saying much and it doesn't do a lot for this ensemble as a whole.
But it's sad that the dress isn't completely sequinned and I think it really should be. There is a version of this dress that was, but it doesn't appear very often. I just don't like the look of a partly sequinned dress, it just makes things look unfinished which bothers me.
One and a half out of five pitchforks.
The cape is the first thing to go, then the rest…
Tera