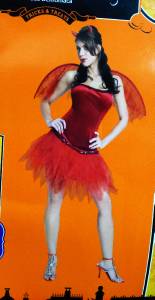 Some costume designs I think are an attempt to put together the cheapest costume possible at the cheapest price and then hope, in an ill-advised way, that it will sell like hot cakes. Even if the costume isn't even lukewarm.
This is called the Sexy She Devil Costume and it comes with the dress, wings and horns. The shoes are not included and… I found this in a local costume shop for $35. Sorry about the image quality, as usual my abilities with a camera aren't anything wonderful.
I really don't think there is anything really sexy about this costume, the skirt alone is enough to make me cringe and the rest of the dress just looks too cheap to me. The wings do nothing for me as well and, finally, the horns are the sparkly glittery ones that I just cannot stand.
Now I didn't buy this disaster, but a thought strikes me which is this is another one of those costumes that seems to be the use of something that didn't sell that got a pair of horns and some other accessory added to it.
In this case I think I can prove this theory of mine in that there was another costume with exactly the same dress but with a ballerina theme to it. While I do understand the concept of mass costume production and what that means, it still matters that there be some kind of imagination involved and that it brings something, anything really, to make these costumes much tackier than they are.
One out of five pitchforks.
I'm being far too generous…
Tera