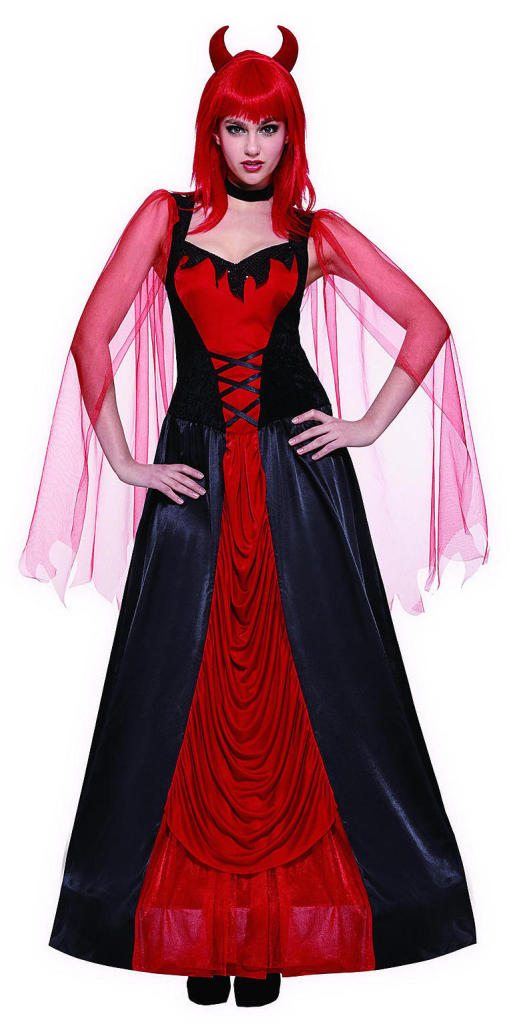 I've noticed that the names given to costumes on websites are, much of the time, used for the benefit of web searches and really not much else. Sometimes the the names are laughable and sometimes they are surprising accurate when it comes to just how awfully tacky a costume really is.
This is the Totally Ghoul Devil Queen Halloween Costume, and I'll get back to the name in a bit I promise. It comes with the dress, the chocker and the horn headband. The wig isn't included, nor are the shoes and it sells on various sites for $45 US.
I can't quite recall if I have ever seen crushed velour looking quite so… tacky. This appears to be more of a medieval costume with a bit of fluff and some horns tacked onto it.
I just don't find this very flattering as a costume and what really wrecks this and turns it completely towards tacky is that wig the model is wearing. I can't quite understand what is the point to using something that makes what is being sold look so much worse than it already seems to be.
There is a hoop inside of the skirt, and it's obvious when you look at the image where it is, which just takes things that little bit further into the realm of tacky and eye rolling. As a whole, the costume weighs a lot, considering the shipping that the sites I have seen this on what to charge, and that would make things a lot more uncomfortable which doesn't help either.
Two out of five pitchforks.
It's not the worst thing, not really, and I think with a bit of work this could be at least halfway decent… but it will still be Ghoulish…
Tera