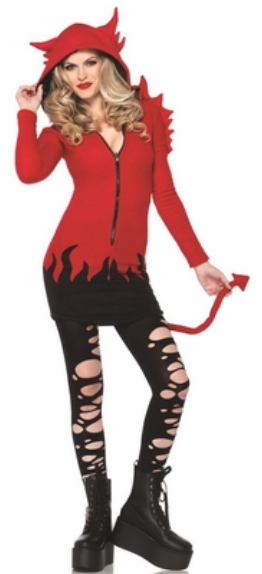 Some time ago on the Tale I shared a costume that was just the most awful thing i had ever found. It reminded me, in a way, of an attempt to make a muppet devil girl costume… and it didn't turn out well at all. And I don't think this attempt worked out well either…
This is called the Cozy Devil Sexy Costume and it comes with the fleece dress which has wings on it, though you can't really see them in this image. There is also an attached spiky devil tail and a demon horn hood. The boots and tights are not included, not that it helps this disaster at all, and it lists for $85 but it does appear from time to time on sale for $35 or less.
This costume really does remind me of some of the huge monster muppets that I've seen from time to time, which are about a million times better than this mess by far.
The wings are silly, the tail is nothing special, and the hood with all of those horns on it just looks wrong. Adding the torn tights and the boots the model is wearing just pushes the entire costume into something one would have to really be slightly drunk to even think about wearing.
I can't say that I like any of this, there is really no making it better, it is firmly in the fleece section of the awful costumes and it deserves to remain there. Preferably buried under a ton of potting soil and turning into compost.
Zero out of five pitchforks.
It's just silly and ugly and those are two things that a Succubi costume shouldn't be…
Tera