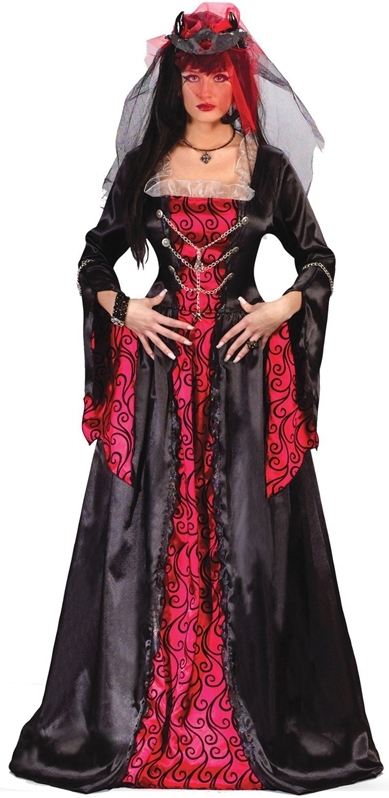 It seems like the talent in costumes is moving away from designing the costume itself and into trying to find new and more silly names for them. Why that really matters I have no idea, but really shouldn't the talent and imagination go into the costume and the name can look after itself?
This thing is called the "Deluxe" Bride of Satan costume and it comes with the dress, choker and veil headpiece and those chains on the front of the dress.
It normally sells for $75 US, but you can find it on sale for around $35 most of the time.
Notice the quotation marks I put around "Deluxe"? I can't really say that I see the "Deluxe in this disaster. It's simply ugly, the horns in the headpiece look bad and it just doesn't do a single thing for me.
If someone was trying to create a medieval I can sort of see this as being an option, but for something Succubi-like it just has nothing going for it whatsoever… and that's being kind.
There's not a single thing that I like about it, there's no possible way to improve it, make it better, or save it save for leaving it to gather dust on a shelf somewhere…
Yet another zero out of five pitchforks.
There will be more I know.
Why does that have to be in the first place?
Tera