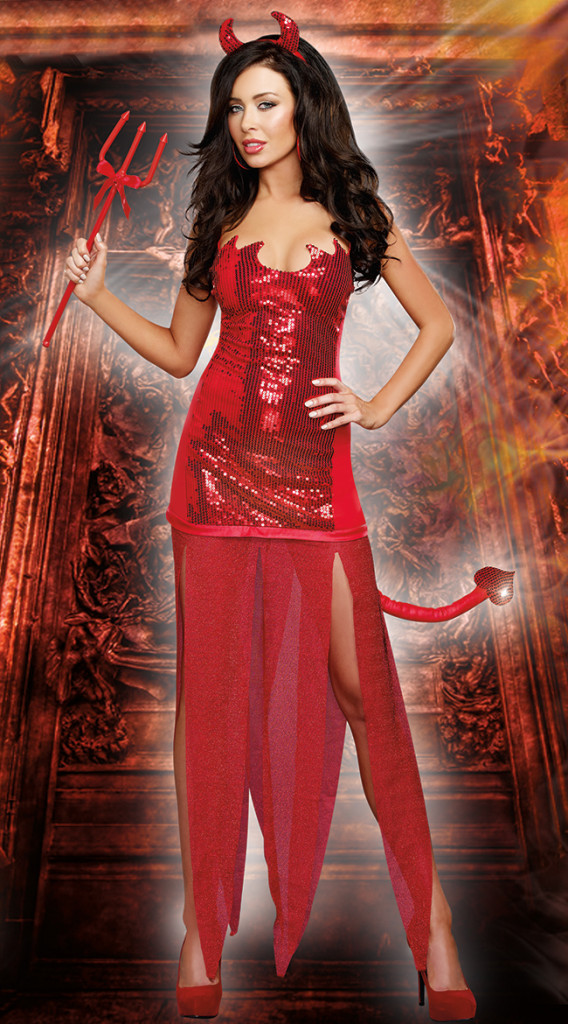 Once again the costume designers have amazed me. Well, perhaps amazed is the wrong thing to say. Let's say shocked, irritated, and just a little bit, made me roll my eyes. Trashy it appears is equal to evil. From a seduction point of view that does make some sense.
I wonder why it is so hard to make a costume look sexy instead of trashy?
This is called the My Evil Twin Devil Costume, which is possibly one of the worst costume names I have seen in some time.
The costume comes with the red sequin dress, which has the tail in the image as well. And this is where the costume goes wrong in my eyes. The hemline is removable. When you do, it becomes a cape, and the real appearance of the dress, being short, is revealed. The costume also comes with the sequin devil horns, but not the shoes, or the pitchfork.
It sells for about $50 US at most sites on the internet.
One of the things that bothers me about this dress is that the sequins are only on the front of the dress. They seem to be like a panel of sequins that are stitched onto the actual dress, which looks lousy. Either sequin the entire dress or none of it, don't try to skimp please? Make up your mind and create a nice looking dress. If the entire dress was sequinned, I actually think it would look okay as a minidress. But like this is just falls apart.
The "cape" is a waste of fabric, this isn't a vampire after all. The tail needs some work, it looks much too cheap and that is a problem. The horns aren't bad and, again, a full sequinned dress and those horns would look really nice, sequinned shoes as well obviously, but like this it just doesn't quite work.
I'll give this two out of five pitchforks.
You would be better off buying a sequinned dress, heels, and the horns alone. Then at least you would look more seductively evil and not evilly trashy…
Tera