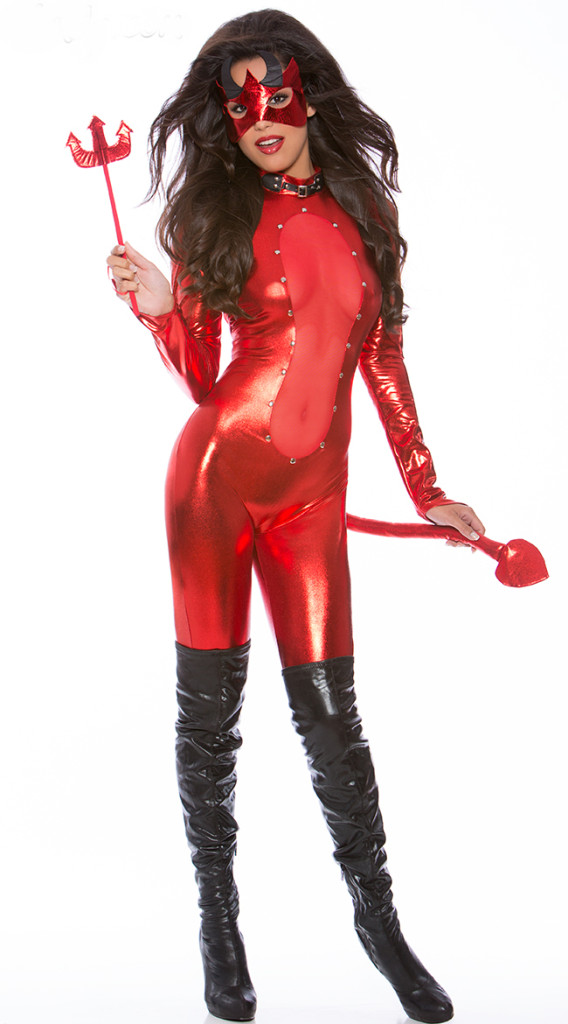 Sometimes I have to wonder about just what is supposed to make a costume sexy… or really what it is that made someone think that a particular idea was a good one. That question comes up a lot in the costumes I find. That's a shame really…
This is called the Sassy She Devil Costume and it comes with the full body metallic spandex suit, a buckle neck choker, a matching face mask and the tail in the picture. The pitchfork and boots are not included and it sells for $52 US.
And… I really do not like this at all. I'll admit that the tail, at least the tip makes me smile, but that can't overcome the total lack of sexiness, seductiveness, and style that this costume is lacking.
Really any good costume needs to have those three things and this one just lacks them. Though i will also add that the mask is interesting in its own way I suppose…
I can't see any way to fix this, to improve it, or save what is, honestly, one of the worst costumes of the year.
Half a pitchfork out of five.
Moving on, better things to come… I hope so.
Tera