I've often wondered why it is that there aren't all that many adult films in which one of the characters is a Succubus. It seems to me that with all of the angel and devil themed videos that are out there there would be a good number of them with Succubi in them.
Sadly, this isn't the case and it's really a very rare thing to find a movie like that. Completely accidentally I came across a movie called Psycho Sexual which seems to have a Succubus character in it. Now it seems like this movie, and a second one called Psycho Sexual 2 were released by Penthouse Films several years ago.
What's disappointing in that is the complete lack of information on the films. There's just about nothing on either of them and, to be honest, I thought they really didn't exist.
Until, that is, I found a trailer for the first movie in the series:
And if you cannot see the trailer here on the Tale, try this link:
Along with the trailer, there is a summary of the first film, Psycho Sexual, which is:
A succubus is a female demon or supernatural entity that appears in dreams, who takes the form of a human woman in order to seduce men, usually through sexual intercourse. Starring Jennifer Dark, Aiden Starr, Nicki Hunter, Amber Rayne, Kimberly Kane and Ash Hollywood.
And I also discovered a summary for the second film, Psycho Sexual 2, elsewhere which seems to be interesting as well:
Steven seeks the expert advice of his shrink friend Frank about Rusk's succubus problem. Frank suggests getting professional help for Rusk or at least providing him some company for a few days. Steve decides to try that out and no sooner is he out of the office when Frank reveals a succubus of his own.
But otherwise… There isn't anything I can find about either film.
I'm not expecting something spectacular, honestly one couldn't. I will admit that the trailer has a very high cheese factor, really the highest I think I have ever seen from a film of any kind with Succubi in it. But I am actually very curious about what both films are like, so if anyone has actually seen either of them, please do leave a comment about that would you?
If nothing else, I'd like to know how many buckets of popcorn I would have thrown at the television before the movie was over. Seriously.
But I can comment on the trailer itself and in spite of just how underwhelming it is… There might be the smallest chance that the Succubi are sexy, are in control, and have a glimmer of seduction in them. It could happen, but I don' t think I will hold my breath on that hope.
I mean, just look at one of the Succubi…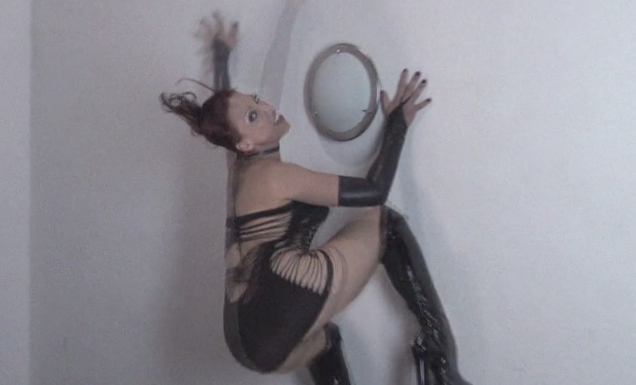 Seems like a lot of campy semi-horror with a side order of low budget porn… Considering that this is supposed to be a film from Penthouse that I think is very disappointing. I'd expect better considering the competition and what they produce. Still… I have to admit that outfit looks interesting…
Succubus Domme sort of look isn't it?
There might be a story for me to write in that… and I should I think.
Tera