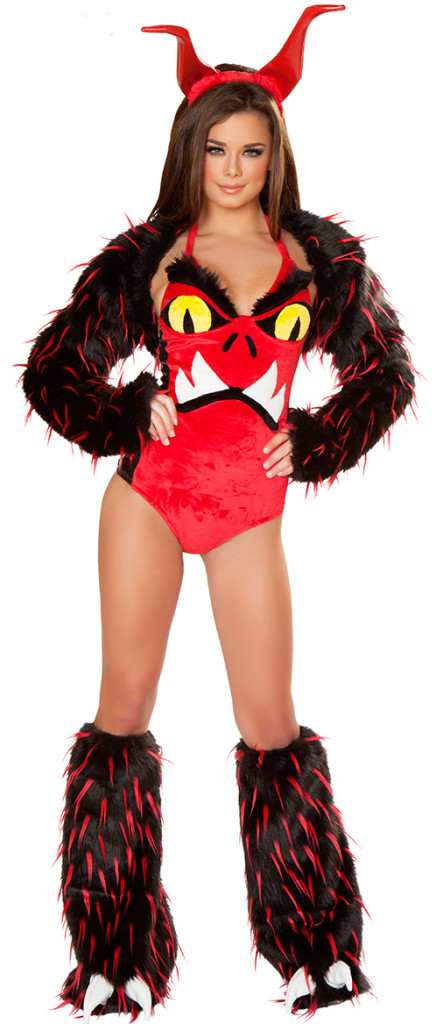 I never imagined I would find a devil girl costume that I would know, on sight mind you, to be the worst thing ever created. I thought that there would be some contenders, at least a race for the bottom. But this? This absolutely takes the prize… I can't even express how bad it is in pitchforks…
This is called, and frankly I don't believe a word of it, the Sexy Devil Halloween Costume. None of which applies here I think.
It comes with, not that it matters at all, that hideous devil face swimsuit, I can't call it a dress at all, there is a tail attached to it and that's all. So for just a lousy swimsuit and that's all, you have to pay $79 US.
But wait! To look like the model, who honestly cannot like this at all for the look she has, you need the horns which are another $15 and that stupid looking fur boots, another $40 and that fur shrug which is another $80! So to look like the model, and why you would want to completely escapes me, would cost a total of $214!
It's simply inconceivable that someone would want to wear something like this for that price. Honestly there are better costumes than this that I've given a single pitchfork to that cost a tenth of this train wreck.
There isn't a single thing I like about it, there is no possible way I would be seen wearing this, and… I cannot find the words to explain just how revolted by this costume disaster I am.
I'd rate it negative a million pitchforks, but that would be rating it too highly I think.
If you see this mess… Just don't. Please don't. Don't encourage this sort of eye damaging pain and suffering on the world… Please?
Tera