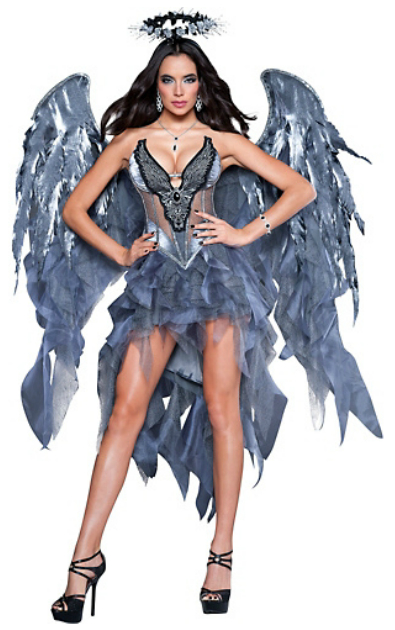 A slightly different costume this time on the Tale. I've been pondering how to mix up something as an option for a costume this year. I found this angel costume and… I wonder what I can do with it…
This is called the Desire Dark Angel Costume and it comes with a satin dress with embroidered wings on the bodice, a skirt with flowing organza and chiffon a gray and black halo headband and a pair of chiffon wings with wire support. Shoes not included of course and it sells for $175 US, though it has been on sale for less than that.
And, at least for me, I wonder about losing the halo, replacing it with some horns, black I think. A red wig, and a black tail. The shoes can stay as can the rest of the costume.
Sort of Tail in one of her moods perhaps? It's actually an interesting thought for me at least as I haven't really dressed up as my "other self" in some time.
Coming to think about this a little more, I am really starting to like the idea and I wonder why the costume designers didn't give a more devilish option for this outfit…
I'll have to try my hand at this I think.
I'll give this, after some changes and alterations, three out of five pitchforks.
This could turn into something… Not sure quite what, but it could…
Tera