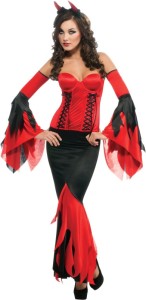 Something of a costume that I do rather like in spite of the ridiculously long name it has. Perhaps it is the combination of black and red and how that happens to match up with my own mythos…
This is called the Sexy Corset Deluxe Women Devil Costume and it comes with a corset with boning, the skirt, sleevelets, and the horns. It does not include shoes and it sells for $60 US.
I like it mainly because it is the sort of thing I could wear at the door to hand out treats and not freeze in it. It's not too over the top sexy, but there is a certain amount of attitude in it that I find attractive.
But the horns are those ones with fluff at the base, they would have to do, there is no tail, and those laces on the front of the corset, which do nothing for me, I do not like at all.
As a whole, I think it would look a lot better if the laces weren't there really. To me they cheapen the look a lot and that need not have been.
I will add that the shoes the model is wearing do work and I'd have to dig a pair of my platform heels out, I'd likely trip over the hem if I wasn't careful.
I'll give this three out of five pitchforks.
Call it a… backup costume… in a way.
Tera