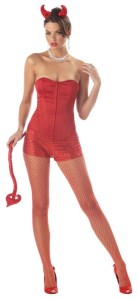 So it's Halloween night… Well, it isn't this moment, but come with me, it's a journey. You rush off to the store and the shelves are bare. There isn't a thing to be found save for one little package that is… well… a "Do It Yourself" devil costume… Something like this.
This is called the Satin Devil Accessory Kit and all it comes with are the horns and the tail. Nothing else. No dress, no stockings, no shoes… Nothing. Here's the best part… It sells for $35 US.
I've found costumes that cost as much as this by itself does.
While the horns and tail are, to be honest, laughable, at least when they pulled the model into wearing them they spent the time to get the rest of her looking nice.
It does give me a thought for Halloween sometime, but getting back to the actual accessories here, they aren't anything that doesn't come with any one or two pitchfork costume that I have reviewed. So in that sense I wonder if it isn't a better idea to go and buy a lousy costume so that the cost makes some sense?
But, as I said, this is a journey, so we have a pair of horns and a tail. That's something at least and I am very sure that there is a smexy red, or black for that matter, dress that can go along with them and make them look nice… Right?
Mebby.
I'll give this one and a half pitchforks out of five.
Do It Yourself might be the best choice of all. But not with this.
Tera