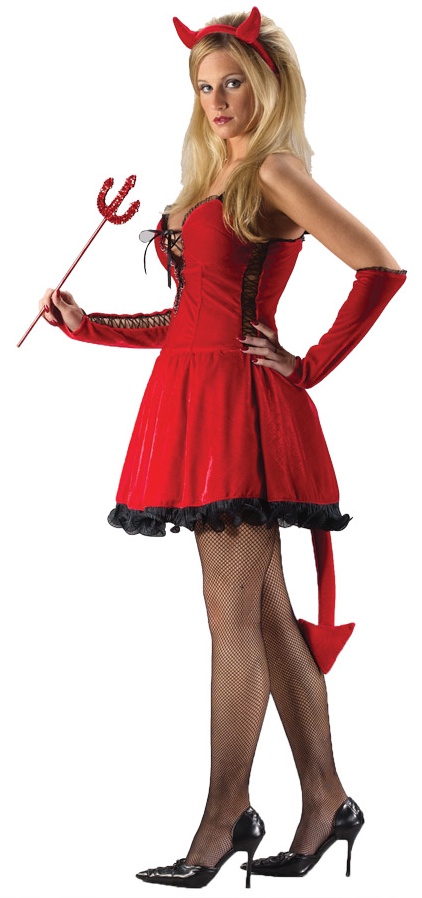 Just what exactly makes a costume sexy? While that is, of course, in the eyes of the beholder, a more important question to ask is… Why is it that costume manufacturers cannot seem to take a basic idea… and make something of it?
Perhaps I will admit, my expectations and tastes are more than they can ever manage. For, just this once, let's consider a costume that isn't really too sexy, but might fit the bill for a more… mainstream… party…
This is called the Sexy Devil Costume and it comes with the red and black mini dress which has a tail attached to it, the sleeves and a red soft horned headband.
The shoes, the pitchfork, and the fishnet pantyhose are not included.
It sells for $35 US on several sites I found this for sale on, but with shoes and stockings, this would run up to $65 US.
Ordinarily, I would dismiss this out of hand, but thinking this over a little bit, as a "fun" thing to wear to a party it's really not that awful. At least, if nothing else. there is a certain kind of kitsch to it that is, at least, a little attractive.
The shoes don't match however, the pitchfork is the lousy one that I dislike to no end as well. As a whole both of them just take away a lot of the kitsch and make it more blah than anything else.
Still… Really it isn't all that bad all of the other costumes I have reviewed of late considered as a whole. That doesn't say a lot for it… But it's something. Would I buy this? Maybe as something to wear at the door when I give out treats… or tricks… Depending on my mood…
I'll give this two and a half out of five pitchforks.
At least there is kitsch.
Tera