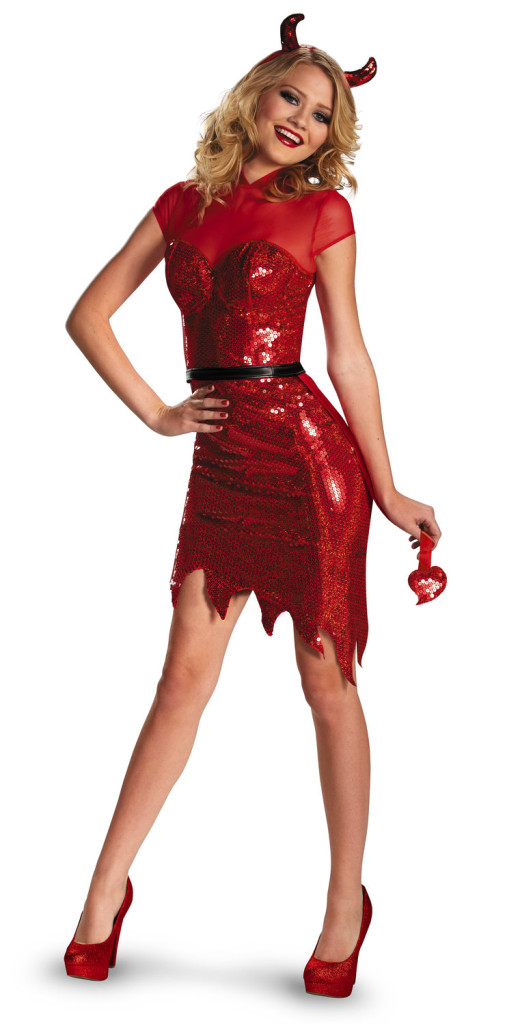 I've often wondered what might happen if the worst of everything came together in one costume. Actually I should be truthful and add that I hope that never happens as it will probably mark some catacylsmic event or another. Still, there are moments when I see costumes that could have been a lot more than they are, but instead… aren't.
This is called the Sexy Sequin Devil Temptress Costume and it comes with the dress, the belt, the horns and the… tail. The shoes are not included and it sells for $35 US at several sites I have found this costume available on.
It's not a good thing when the best I can say is that I like the model's shoes. I will note that at least the horns and tail match the sequins on the dress, which is honestly quite a surprise as normally there isn't all that much coordinating in many costumes.
The thing is… I don't like the dress, or the horns or the tail. I have a lovely strapless sequin dress that that looks far better than this and, of course, I have horns and a tail that would just be perfect for it as a combination…
But as for this?
Yet another zero out of five pitchforks…
…too many of those and I'll try to do better next week…
Tera