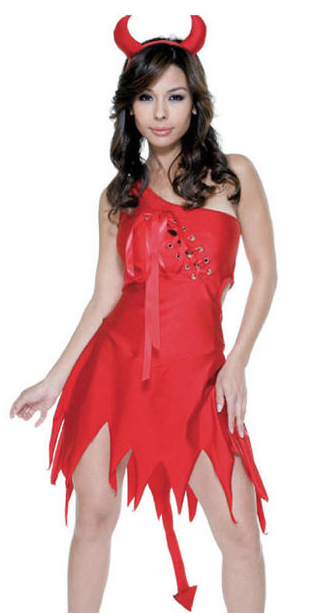 There are lots of costumes that I have looked at that are missing something… Some more than others, but it is, as I've seen, a theme… Here's another example of that…
This is called the Sexy Red Devil Costume and it comes with the dress, the horns and the tail. It sells for $56 with only $25 charged for shipping and handling at one of the places I found this.
It's just… well tacky is probably giving it a compliment, but that is about the best description of this that I can think of. The horns are lousy, the tail looks like an afterthought and the dress itself, especially that glitter bow are too ugly for words.
I can do a lot better with a red strapless dress, a pair of horns and a tail than this and I won't feel half as silly… Well, actually not at all as silly as I would in wearing this disaster.
I can't see a way to save this, nor really would I want to try as it would make more sense to put the time into something a lot better than this.
As well, I think that charging almost as much in shipping as the costume itself is a bit on the tacky side as well.
Zero pitchforks out of five.
I'm not even sure why this exists to be honest…
Tera