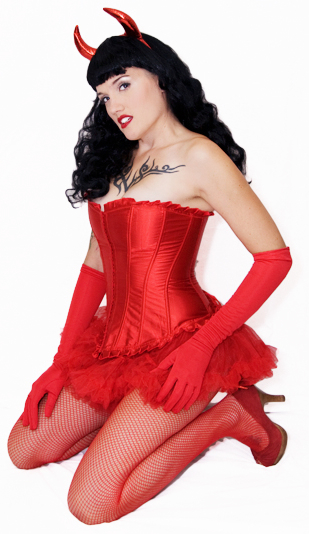 I must admit that I really do love the image of Betty Page that appears so very of her dressed up like a devil… There are some costumes that almost, but not quite manage to recreate that look. I've found one recently that I think does justice to the look and style and I think it's wonderful…
This is called the She-Devil Betty Page Costume and it comes with the corset, the gloves, the skirt, the horn, tail, and, apparently, a pair of red bat wings which are not shown in the image. The stockings and shoes are not included and it sells for $75 US.
I really do like this a lot. I would have to buy the shoes and stockings which would add another $40 to the cost and bring the total to $115 US however…
As I cannot see the tail, or the wings, I cannot speak to their look, but, thinking about it… I don't think it's really necessary to wear them at all. I don't say that, I believe this is the first time that I considered not having a tail with the costume… But… I think as a whole the look is right and for a 1940s themed Halloween party this would be a bit of a head turner I believe…
The horns are a bit borderline, but otherwise I rather like this and would seriously consider it…
Three and a half pitchforks out of five.
It's… Interesting… And that counts for something…
Tera