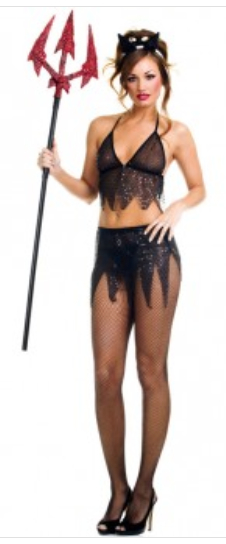 Oh the things I find that claim to be devilish costumes.. Some of them simply just really should never, ever, say they are. No matter how many accessories they throw at it.
And really the size of the pitchfork in the image doesn't help to sell it all that much.
This is called the Black Devil Outfit. It comes with the top and bikini bottoms and… that… thing.. calling itself horns on the model's head. The pitchfork is not included and it sells for $25 US.
So if I understand this concept, you create a really lousy bikini, add some sheer fabric to it and stick a weird thing with eyes on it on your head and you are a devil.
Right. Of course… It's just so obvious.
I still cannot understand how a costume.. Any costume… Can call itself devil anything without actually having something connected to that concept in the basic costume. Why is it that one must purchase all sorts of things to make the costume actually be what it attempts to be?
This particular costume, to me at least, is an example of leftover things found in a bin, tossed together and stuffed into a package for sale.
Not something that I will ever consider…
Zero out of five pitchforks.
Moving on to, I hope, better things…
Tera