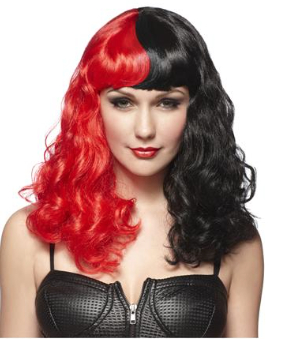 Last week I shared a wig that I thought really wasn't all that bad. Of course this week I have to share one that just has this Disney villainess vibe to it. And I don't mean in a good way either really…
This is the Black and Red Twisted Curls Wig and it sells for $20 US. Obviously there are no horns with it and really that wouldn't help all that much would it?
It honestly reminds me of Cruella Deville in a lot of ways and I think that it would for anyone that had seen that movie even once before, colours being different not making any difference to that really.
The model I do have to say is making an effort to make this wig look better than it is and honestly that seems like a really difficult thing to do.
I won't be buying this.
Zero out of five pitchforks.
Last week was better, I have seen a lot better and I expect to again… At least I hope I will.
Tera