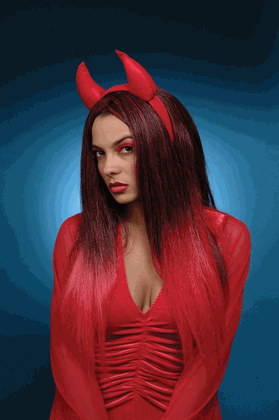 The first of two wigs that I found this week on the Tale. This week I will share the better of the two… Next week will be the disaster…
This is called, oddly enough, the Black and Red Devil Wig. It does not include the horns which I am on the fence about anyway…
It sells for $25 US.
I have to say that I do rather like the horns the model is wearing with this wig, and having looked for them, they sell for $15 US. So… As a whole… I don't think that $40 US is too much for this combination overall.
I like the shift from red to black in the wig… It looks like the hair was dyed that way and it just looks better and that, really, is the most important thing isn't it?
Going a little bit further, I also like the dress the model is wearing as well…
Perhaps there is an idea in all of this?
Oh… There might be.
I know that the wig next week will not.
But for this one, I'll give it three out of five pitchforks.
It's something to think about… But not quite sure what.
Tera