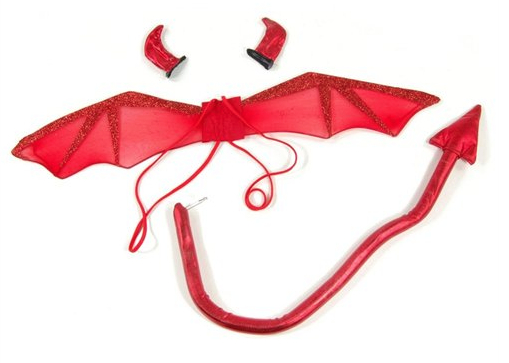 I believe in making the best costume you possibly can. It matters to me that the right pieces are drawn together to make things look the best they can be. I have, many times I know, talked about the right horns, tail, or pitchfork… But what I found really isn't any of those by any means that I can see…
This is called the Sexy Red Devil Costume Horns Tail Wings Demon Acccessory Kit and it comes with, of course, everything you see in the image here… It sells for $20 US.
And, of course, there is absolutely nothing in this that I like, not that is a surprise to anyone that reads my frequent rants about costumes I think.  I suppose that some might like part of this, or all of it… Or be needing to make a costume in a hurry and choose this.
But I won't.
Zero out of five pitchforks.
It's not that hard to make accessories better… So why not do so?
Tera