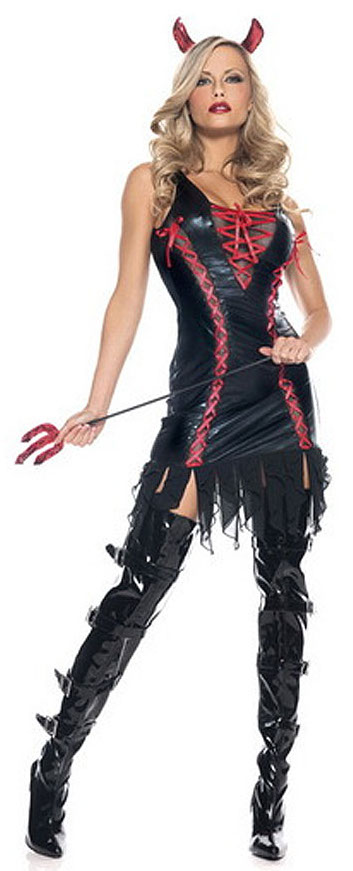 One of the things that I believe is that the right accessories can make or break a costume. The most wonderful one can be ruined by a lousy pitchfork or horns. A wrong pair of heels or boots for that matter can make things look completely wrong… But sometimes, just something works and the result is… interesting.
This is called the Black Sleeveless Devil Costume and it comes with what I think is a very interesting dress. It also comes with the pitchfork the model is wearing and the horns. The thigh-high boots she is wearing are not included… More the pity really…
It sells for $35 US.
I have to say that, as a whole, I really like the look. I like the costume more than I really expected to and matching it with those boots really makes it look so very right.
But then that absolutely lousy pitchfork and those lousy sparkly horns just take so much away from the look.
I like the, I think, dominant look that the costume has and I think I can really do things with this. The costume itself I would leave as it is, I have a pair of boots very much like the one in the photo, so that's not a problem. And obviously any of my better horns, especially black ones and a red wig, and of course a far better pitchfork that I have, would I think… be very interesting.
Something to ponder… and I think I will be.
I'll give this four out of five pitchforks.
Sell it with better horns, get rid of the pitchfork and sell the boots and I might rate it higher… I know that if or when I get my hands on this…
It will be.
Tera