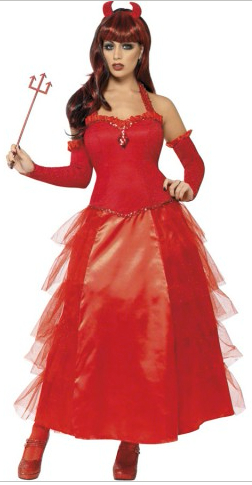 I think I have a fairly good idea of what glamour means… To me at least. I think that the most important thing is to look seductive, for really without that the rest of what comes with glamour really isn't all that important is it? But. of course, I could be wrong. However this costume I cannot see making me change my mind one iota…
This is called, in case you were wondering, the Devilish Glamour Women's Costume and it comes with the dress, the gloves and a pair of horns. Shoes are not included nor is the pitchfork and it sells for $100 US, more or less, depending on what site you find it on.
And I cannot, at all, see what is quite so glamorous in this costume. I can see tacky, I can see a hint of uninspiring, but as for glamorous? I think someone will need to find me a road map in order to find my way to that particular thing.
I don't care for the horns, the pitchfork is… laughable honestly, the gloves look unfinished and the dress itself is just… wrong. It looks too heavy, the pleating almost seems like it is there to keep spills off the dress.
There is of course no possible way to save this mess, such as it is.
Zero pitchforks out of five.
Not an auspicious beginning to the New Year, but really… What did you expect?
Tera