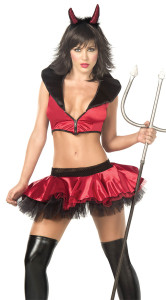 I am beginning to wonder if it will be an ongoing theme for me that I will be finding costumes that, in general, I really do not like. But, as silly as it is, the accessories which have nothing to do with them, I will want more than the costume itself.
This is called the Sexy Sinner Costume and it comes with a red satin crop top with black satin collar, matching skirt with attached petticoat and a sequin horn headband. The pitchfork and stockings are not included, nor are the shoes which aren't in this image but do appear in another one, but I'll get back that that in a moment.
It sells for $65 US on sale, but I have also seen it for as little as $45 US as well.
There isn't a thing I like about this at all. I don't like the horns, the top, the skirt… Absolutely nothing that is being sold as the costume itself does a single thing for me.
But, honestly, I want the stocking and the clear heels the model is wearing. They would really go well with a certain red off the shoulder dress I have and with a pair of black opera gloves I think the look would be smashing…
As for this however?
A single pitchfork out of five.
Tera