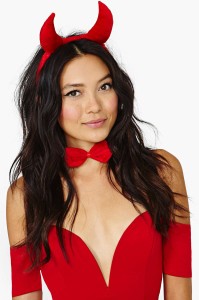 Sometimes you really have to hand it to those that come up with the way they are going to market a costume. Or perhaps tt isn't a costume as much as it is accessories. Or, even better, it has really nothing to do with the costume itself at all, but rather a few trinkets and you have to fine the rest of your costume…
One might think, at first blush, that what is being sold here is the entire costume you see. Now, that would be interesting, it is for me at least and really the dress I rather do like somewhat. But… This isn't about the entire image here. It is, regrettably, only about a few accessories that are, and aren't, shown…
This is called the Dance With The Devil Costume Set and it comes with a pair of horns, a bow tie and a tail… And that's all. The dress is not included and as such the accessories, as a package, sell for about $25 US.
The thing is that looking at the image and the name that is used, you would think that it would include the dress and you need to read the fine print in order to know exactly what you are getting when you order this.
So, what this comes to is a pair of horns that has been seen on many other costumes, a bow tie that really doesn't match and a tail that, although you cannot see it here, is a fuzzy thing that really just looks so very wrong.
Two out of five pitchforks.
Honestly, sell the dress. It looks a lot better.
Tera