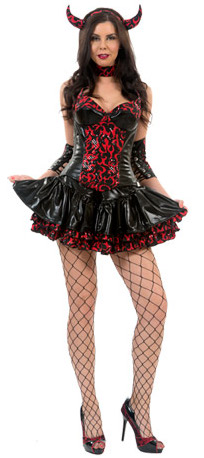 I have a thing for shiny black sexy costumes… I think that the right costume like that has has a really nice, sexy look really does work for me in a lot of ways… Especially with a red wig, but that's another story I suppose…
This is called the Fire Devil Costume and it comes with the corset, mini tutu, pair of wrist bands, choker and set of devil horns. Shoes and stockings are not included, nor is a tail. Oh, and the company that makes it is called… Trashy Costumes, but I won't hold that against them.
I will hold the $640 US price tag against them I think however… Or I am really going to try to at least.
The thing is that I have looked at this company's costumes before and some of them are really quite tempting in many ways to me and this one really does as well. To a point.
The main issue I have is that while it looks lovely, and really it does, I'm unsure if it is really worth the price tag. There is at least one other costume by this company that is slightly less expensive and to me is a far more sexy and Succubish costume than this one is.
That's not to say that if I was offered one I wouldn't at least try it on to see what it really looked like on me and I'm almost sure that having done so it would be a hard decision to make whether I would or wouldn't.
I wouldn't have the fishnets though and I would find better heels at least. I do think the horns making the outfit is a nice touch even if I don't really care for the mottled look of them all that much here…
Four of out five pitchforks. Likely almost a four and half with better horns and shoes, but then I'm picky aren't I?
Tera