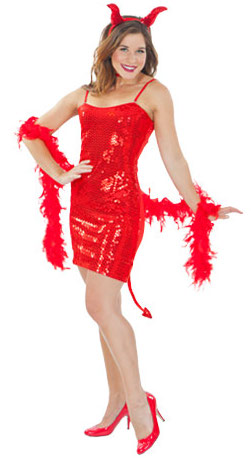 I will say that some costumes really are not that awful. There are some that actually do, in some small way, manage to not quite be totally trashy or ugly or a mess or worse. Of course those are few and fae between but they do, sometimes, appear in the midst of all of the junk that is out there to be found…
This is called the Little Devil Costume and it comes with the dress, which has removable shoulder straps, but the tail isn't. A pair of sequin devil horns, a feather boa and the necklace you can just barely see the model wearing… The shoes are not included and the ensemble sells for $50 US at most places on the web that I found it.
I actually rather like the dress, though the horns, tail and boa are… well… a bit on the tacky side for my personal tastes. Though at least they used a pair of shoes that are a fairly good match for the costume at least. They sell for $22 on one site that gave them as an option to by with the costume I should say.
I would not use the boa, nor the tail or horns, I have better tails and horns to use of course. Overall as a "something to wear to the office Halloween party" idea it really isn't all that awful a thing to consider I think. Shoes included.
I'll give this three out of five pitchforks…
Is it bad to think of this as "respectable?"
I'm not sure…
Tera