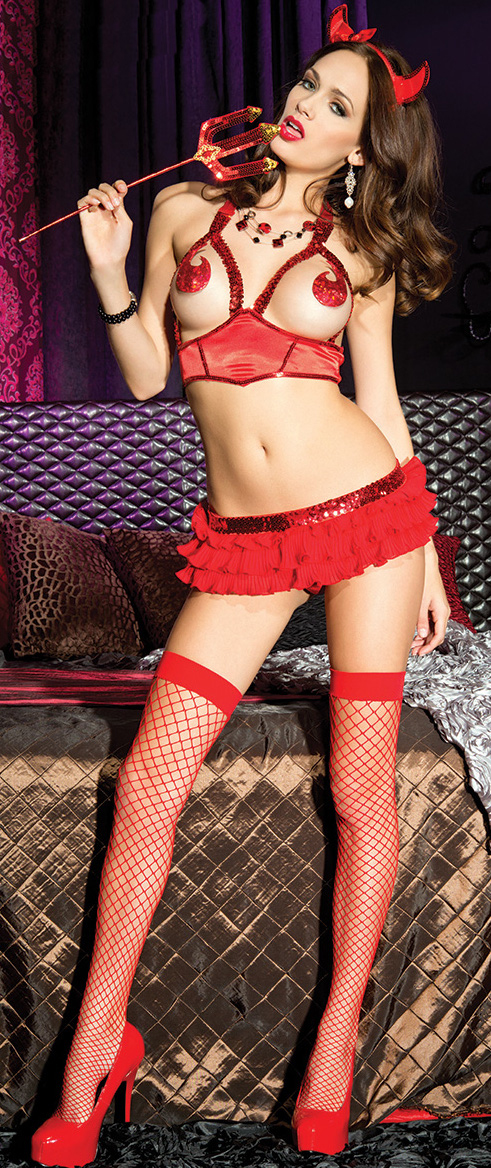 I wonder why it is that the more racey, for bedroom play at least. costumes seem to take the trashiness level of costumes to a new height. Is it that difficult to create a costume that looks nice, fits well, and most of all doesn't make you feel silly to be wearing it?
This is called the Daring Devil Lingerie Costume and it comes with the bra, the ruffle skirt with an attached thong and red sequin pasties. The horns, pitchfork and stockings as well as the shoes, are not included.
It usually sells for $40 US and sometimes is on special for $30.
When I look at this disaster, the first thing I think is… Why would someone wear this when a really nice lingerie set with a pair of horns and some sexy shoes would work so much better?
For that matter, why is it that no one has tried to create a costume like that by now?
Getting back to this mess, it just screams trashy to me to the extreme. Actually it says something a lot worse than that but I won't reveal those thoughts I think.
There is no possible way I can think of to make this better or save it from itself. I cannot see myself wearing this for the simple reason I can imagine my Eternal looking at me and asking if something was wrong.
Because my Eternal… Knows.
Zero pitchforks out of five.
Not worth looking at, not worth spending money on. By any stretch of the imagination…
Tera