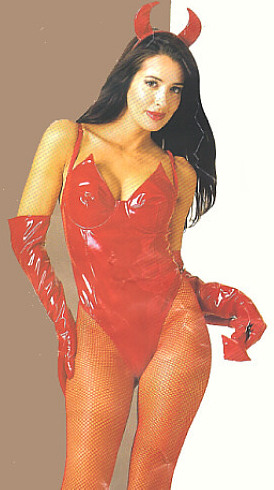 As it is only a couple of days before Halloween, there of course has to be one final nightmare before that night arrives… right?
This… thing… is called the Red Devil Bodysuit Costume and it comes with the vinyl teddy, the horns and the attached tail… And that's all. The gloves, stockings, and shoes are not included and it sells for $70 US, but can be found for as little as $35 US at some online stores…
And I really dislike this quite a lot. It just looks too cheap for my tastes, which is one of the things that I really do not like in a Succubus costume by any means. The tail is nothing special and the horns are simply wrong by any stretch of the imagination.
With the stockings and gloves, to be honest, it really adds not all that much to the overall look at all. I'm not sure if that is a case of the model not fitting the costume well or if it is just the overwhelming kitsch in this that makes it just so bad.
Saving this isn't at all possible, at least I cannot see a way to do so and I won't be wearing this on Halloween I'm very sure…
I'll be generous and give it one pitchfork out of five.
Call it a gift before Halloween to make up for the nightmare?
Though it really doesn't I know…
Tera