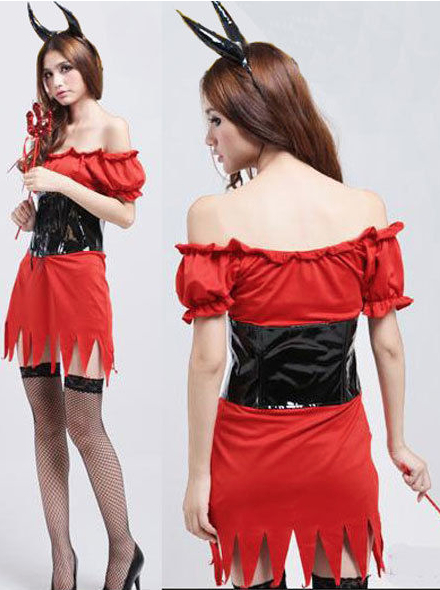 Halloween fast approaches and, of course, there has to be the appearance of something of a horrific costume doesn't there? Well, not really, but that's what will happen today as I found something that is simply… Ugh.
This… thing… Is called, and it really is a name that is much too long, someone was trying to hit all of the Google keywords I think with this one, the Hot & Sexy Adult Lady Devil Costume Halloween Outfit Dress Lingerie. Doesn't that simply roll off the tongue?
It comes with the horns. And the dress. The pitchfork, the stockings and shoes are not included. If you are looking for bargains, you can find this for as little as $18 US. Not that I would recommend that you would mind you.
All kinds of lousy, cheap and uninspiring here to be seen. I for one won't be seen wearing this I promise you. The huge black band of ugly in the middle of the dress adds to the ice factor here by quite a lot. The horns even look to be inflatable, if that's possible. Not to mention that they look so very wrong by any stretch of the imagination.
There is no possible way to save this, really it should remain on the shelf, gather dust, then be tossed into the nearest waste bin as soon as possible. I for one will do doing so.
Zero pitchforks out of five.
Even last week's was better than this disaster…
Tera