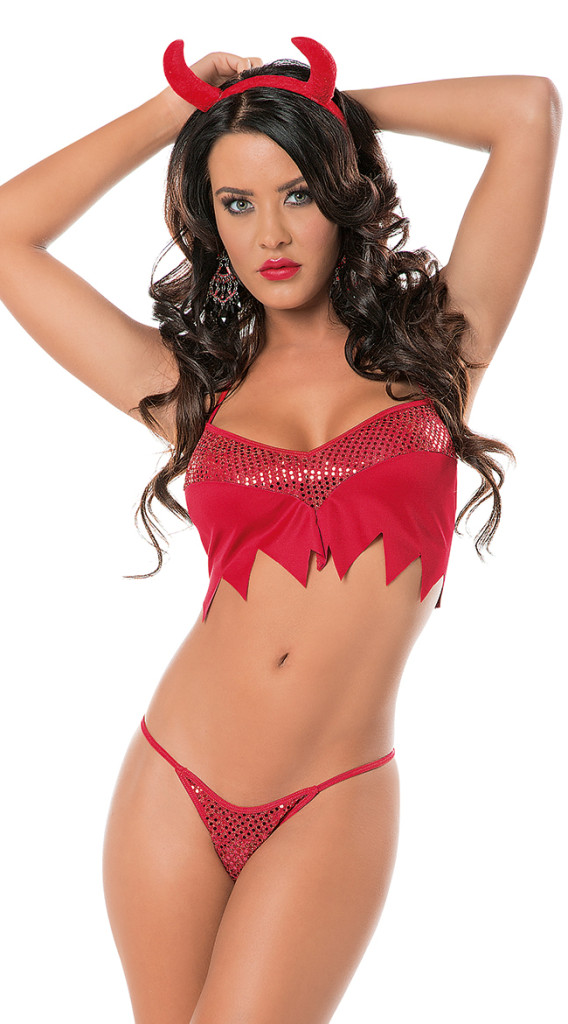 For this week's costume I decided on something that is quite a lot less. It's less of a costume, it's less than lingerie, and most of all… it just looks… less in a lot of ways. Of course this is something for the bedroom, not a "normal" Halloween party. Still I think I can do better than this…
This is called the Red Hot Devil Lingerie Costume and it comes with a red sequin and lycra jagged edge cami top with matching sequin g-string and horns. And that's all there is.
It sell on some sites I have found it on for about $25 US more or less.
Obviously those that know me will know the first thing I do not like are the horns, then the jagged top, and of course the lack of a tail isn't helping this at all.
I will say that the model is really selling this. At least her body shape is, that expression on her really doesn't seem to say "I like this" so much as "I meh this."
Honestly I have lingerie that is far and above sexier and more seductive than this is by far. You don't need to scream "I'm hot" when you can whisper all of the things you'd like to do…
As my Eternal will attest to this coming Halloween I promise…
Two out of five pitchforks.
I can do better, and I will.
Tera