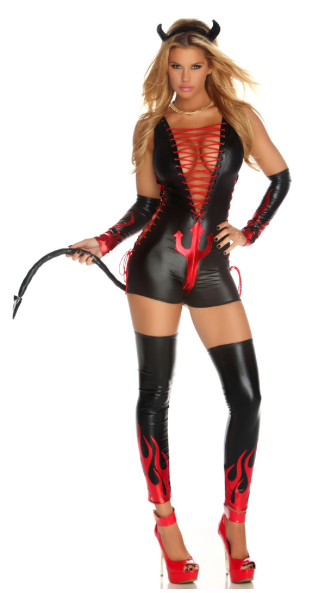 I've mentioned many times one of the things I look for is, if at all possible, something like latex in a costume… I just like the look of it more than anything else.
This is called the Dark Fantasy Devil Costume and it comes with… well… everything save the shoes.
The costume has the black polyester/spandex romper which has the attached tail, the horn headband, the black leg warmers and the arm sleeves… but no shoes.
And I really think the shoes are something you would have to buy to make this look right. If you didn't the costume sells for $150, but with the shoes it goes up to $200…
And that's where I go from liking this to wanting to but really cannot quite make myself… well that and the really ugly pitchfork on the front of this costume. There have been a very select few costumes I have found that are over $150 that I have liked the look of and this one really falls on the border because of that stupid pitchfork design. That's just a little bit overdone I think and it ruins things for me at least…
However… I do have a really nice latex minidress that I think would work quite well with the leggings and sleeves, using them as accents. I even have a nice pair of red pumps that would work well… And, of course, I have much better red horns than those black ones this model is wearing…
I'll give this three out of five pitchforks… I might give it four if that stupid pitchfork wasn't there…
Tera