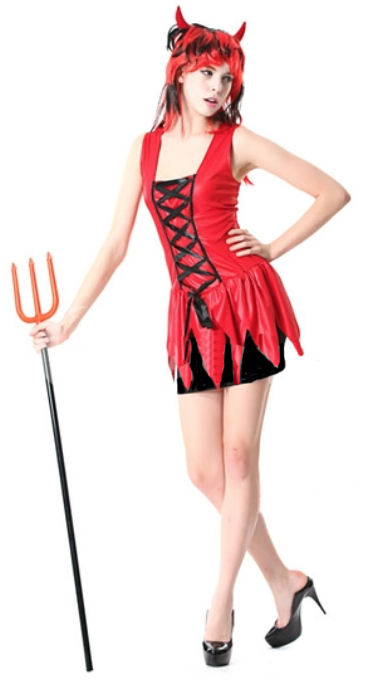 It amazes me at times how some costumes are described… I think that some of the people that write the ad copy have to be some of the most imaginative people there are… It is a shame that that same imagination isn't put into the costumes…
This is called simply the Red Devil Dress and it comes with… the dress. That's all. The wig, the pitchfork and the shoes are not included and it sells for $40 US but can be found for a lot less quite easily…
Awful dress, the entire ensemble is a disaster, no tail and overall I shudder to look at it.
Here's the thing that really gets me however. Read the ad copy and if you can make it to the end without laughing you are better than I am by far…
"Do you want to be the superstar during the halloween party?  If do, this costume will be your best choice. Wearing this, you will be the most horrible, insane, and the king/queen of scare. You can wear it on parties, masquerades, birthday parties and wedding occasions. Wear this Costume and feel the fun. It is suitable for girls."
Okay. Where do I begin… Superstar? Really? I will give points for the correct use of the words horrible and insane though. I also came to a screeching halt when it was suggested that this would be something to wear to a… wedding. Seriously? Who writes this stuff anyway?
The entire ad copy sounds like someone translated two other ads from another language, copy pasted it and moved on… Mind you, considering the costume I can understand why one would get past it as quickly as possible…
Zero pitchforks out of five.
Nothing to save here and nothing to remember should you decide to wear it… I won't be…
Tera