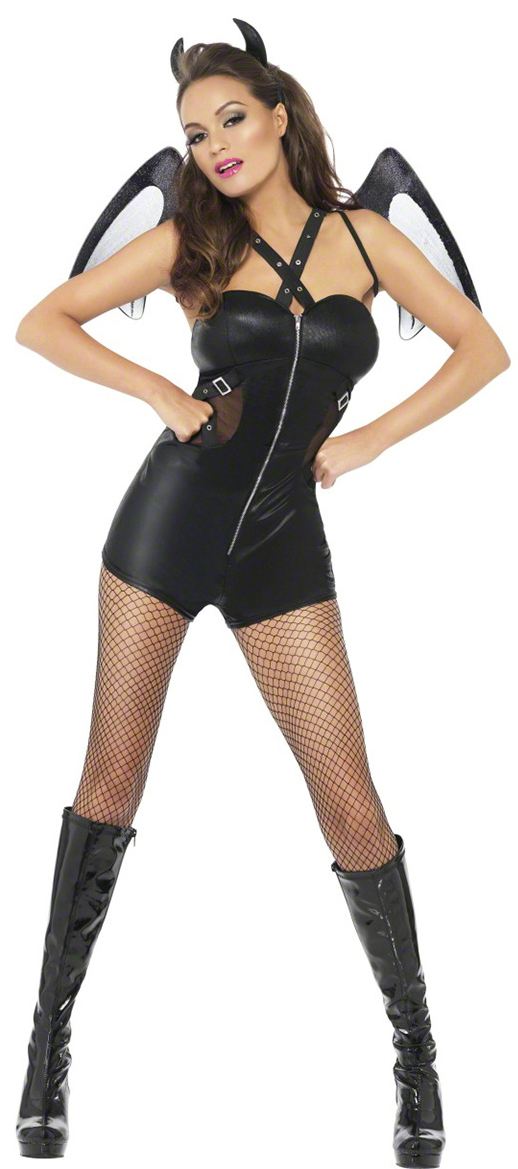 Black I don't mind all that much as a costume colour. It has its place and really it can work well in the right combination… This is… close.
This is called the Fever Black Devil Costume and it comes with a black zip up romper with mesh insets, a black horned headband and a pair black wings. The stockings and boots the model is wearing are not included, nor is a tail, and it sells for $48 US.
Adding the stockings and boots to this drives the price of this costume to $128… Adding a tail would drive it to $140 US…
Overall I kind of like the look of this costume, though there is no tail to be seen. I'm not sure I would go with the stockings really or the wings for that matter, neither of them do much for me to be honest.
The horns at least match the costume and, as a thought, wearing a red wig with this might be… interesting…
I can sort of see needing a whip of some kind as well considering how dommish one looks wearing this combination.
I'll give this two out of five pitchforks as it is…
It might be more when I change things… a bunch.
We'll have to see if this makes it to the top choices for the year, but I don't think it quite will manage that honestly…
Tera